Company Details:
IOF Productions Ltd, established as an Arizona S. Corporation June 18, 1988. President/Producer: DEBORAH J LEDFORD. Representative of Deborah J Ledford's literary projects, including but not limited to, the award-winning Inola Walela/Steven Hawk suspense thriller novel series: CAUSING CHAOS, CRESCENDO, SNARE and STACCATO.
2016 and 2014 Anthony Award Nominees for Best Audiobook, CAUSING CHAOS and CRESCENDO are impeccably voiced by TV and film actress CHRISTINA COX (Elementary, Shadowhunters, Arrow, Chronicles of Riddick, Dexter, NCIS, 24, Better Than Chocolate, Blood Ties, Nikki & Nora) who brings every character and setting to life with prowess and finesse. Click here to LISTEN to a variety of audio excerpts from both audiobooks.
Both audiobooks are available from AUDIBLE, and  iTunes (Search: Causing Chaos and Crescendo Ledford Unabridged).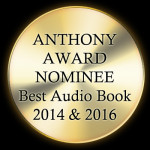 Also produced by IOF Productions and Deborah, and narrated by Christina Cox: The Blind Eye by Marcia Fine. OneBookAZ First Place Winner for Best Fiction. This audiobook is available from Audible and iTunes (Search: The Blind Eye Unabridged Audiobook).
Deborah J Ledford established IOF (Ice on Fire) Productions Ltd in order to produce her own original screenplay projects, as well as to assist other Los Angeles-based independent film production companies in a co-production capacity. Her duties included: composing investment prospectus packages, choosing scripts, scouting shooting locations, compiling and structuring budgets/day-out-of-day lists/character and scene breakdowns in order to present investment-worthy projects for investors.
Blind Ambitions, a short film written, directed and edited by Deborah, was entered into Scottsdale, Arizona's first International film festival. Blind Ambitions won Third Place in that competition, as well as Honorable Mention in the Tucson International Film Festival. From there, she wrote the full-length version of the same script as well as six other original full-length screenplays.